Back
Poki
Subway Surfers HTML5
_Design: UX, UI, 3D Asset Management
_Tech: HTML5, WebGL, PixiJS, Odie, Unity reversioning
Changing tracks
We worked with Poki on the dream opportunity of bringing AAA smash-hit, Subway Surfers to web and mobile browsers.
Porting games to different technologies is always a challenge. Doing so where significant improvements need to be made to download speed and performance whilst fully preserving visual parity with the original really tested us...
Getting 'BIG' to fit small
Subway Surfers needs no introduction. Launching back in 2012, it's had actual billions of downloads and continues to draw 20 million daily active users.

Its pedigree is in no doubt and Poki were thrilled to acquire the rights to bring it to their browser based games platform. A Unity WebGL conversion ticked the box of getting it running on desktop hardware but a vital piece of the puzzle was missing - mobile.

One issue with the Unity export is that it's big - around 30MB for the player itself before the game is accounted for at all. The other is performance, where a decent desktop was required to run the WebGL version and mobile browsers weren't supported at all.

We used our super-optimised Odie 3D framework to port the game, and painstakingly brought over all of the Unity assets and gameplay systems and converted them to HTML5. Whilst there is often the dream of the magic, automated system to repurpose games made with other tech for the web, the truth is that it requires bespoke skill and finesse to really get down to the metal and coax out every last drop of performance.

Our bespoke remake of Subway Surfers in HTML5 means that the game now has a whole new track to run on.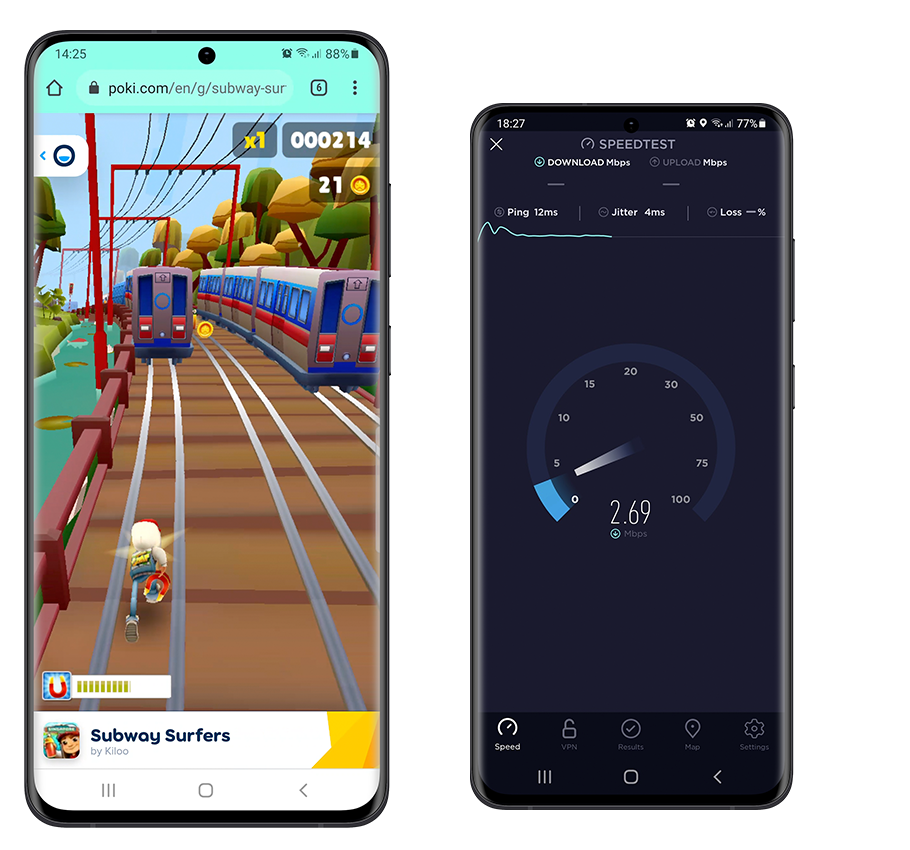 Making pAAArity!
One of the greatest challenges we had as we converted the game to HTML5 tech was in preserving visual, performance and interactive parity with the original game. Whilst the original was launched in 2012, years of intervening evolution and development have means that the game we have converted is truly a visual masterclass, requiring every trick in the book to faithfully reproduce.

Original co-developers Kiloo had eyes on the project so it was essential that we made sure it performed exactly like the original. Our development team worked tirelessly to ensure that every swipe, jump, tap and dodge looked and felt precisely the same in hand. As with all our products, the goal is to make something where the player could only tell you which version they were playing by the presence of an address bar.

Having launched the core experience, we're now working on bringing the full Subway Surfers experience to the mobile web will all the characters and metagame goodies that makes this game sticky enough to have been downloaded by (numerically!) half the planet's population!